NY GLASS & STOREFRONTS is your Number 1 Glass Company
No Job Too Big, No Job Too Small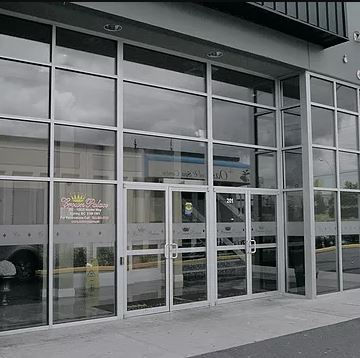 Storefront Systems
For Offices, Hotels, Restaurants, Bars, Movie Theatres, Retail Franchise Locations, Medical Buildings and Schools
Impact or non-Impact glass storefront entrance for your business in Clear and three different colors: Satin Anodized, White, and Bronze Anodized
Aluminum Storefront Systems
Design Build
Catastrophic Damage Repair         
New Construction
Renovation and Retrofit
Single/Pair Doors
Aluminum and glass storefronts are an excellent way to improve and modernize the appearance of your building. We use only the highest quality glass and insulated products on the market today. Many options in commercial storefront doors are available to help you update and customize the appearance of your facility.
Doors & Glass
With an extensive inventory and wide selection of sizes, shapes, colors, coatings, and patterns, NY GLASS & STOREFRONTS provides glass installation and glass repair, when you need it.
Expert Repairs on: Insulated Glass, Tempered Glass and Plate Glass Windows.
Two Great Locations…Call now for your Free Estimate
Friendly, professional and punctual!
24 hours a day 7 days a week Service
631-566-5096
679 Main Street
Center Moriches, NY 11934
516-522-1203
 36 Quebec Drive
Huntington, NY 11943